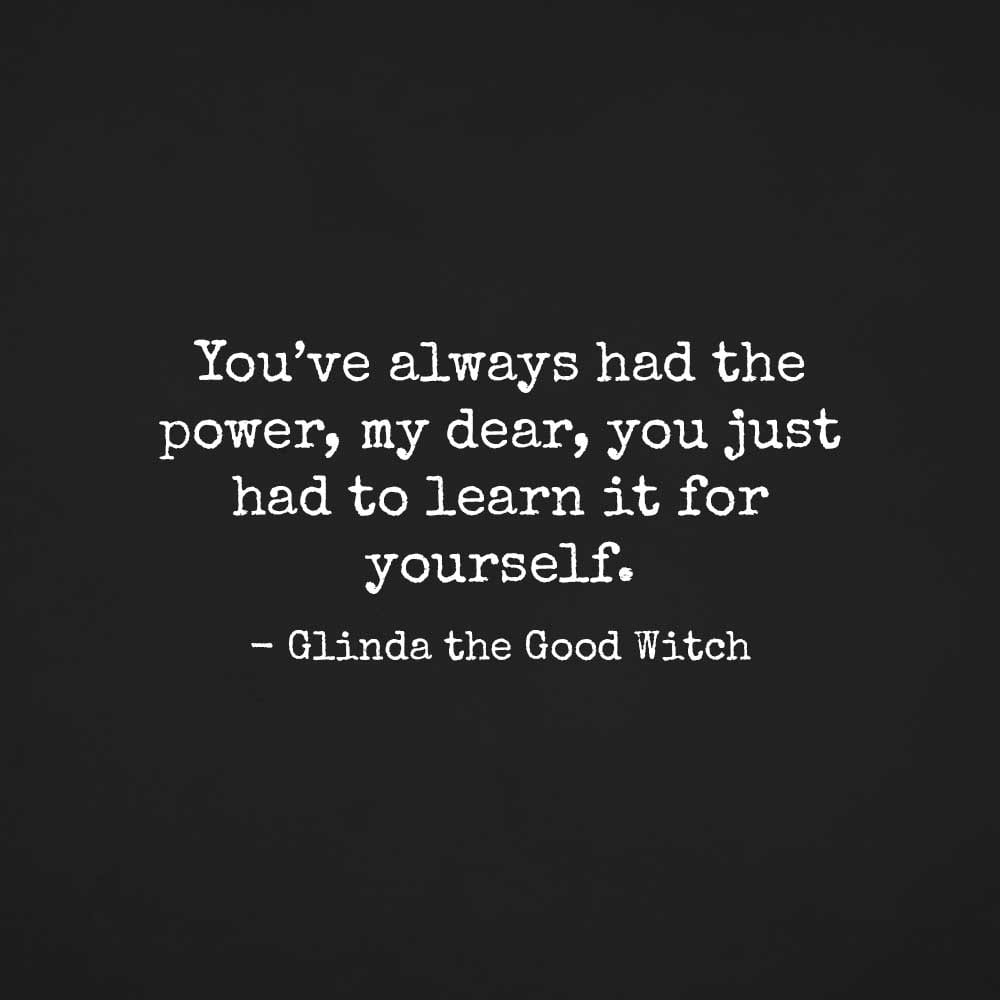 You've always had the power my dear, you just had to learn it for yourself. – Glinda the Good Witch
"There's no place like home, there's no place like home". How many times have you heard this famous phrase from The Wizard of Oz? A novel written by Lyman Frank Baum in the 1930's. I recall watching this classic movie as a young child numerous times. It invoked such magic and mystery. All I ever wanted was a pair of ruby shoes and to time travel! Wouldn't be delightful to have those shoes, and manifest anything you desire? Maybe we could go back to the past, or see into the future? There is distinct symbolism behind The Wizard of Oz. The storyline and characters have a deeper spiritual connotation. Themes of love, friendship and trust are incorporated into this tale. I invite you to dive into the journey of Oz.
Dorothy Gayle, from Kansas is the main character of the story. A young spirit who is drawn to adventure and mysticism. Her life changes in an instant, during a dramatic storm. Everything is flipped upside down, as her home is lifted by a cyclone. Dorothy, along with her pet dog Toto arrive in a city called Oz. An enchanted place, full of illumination and wonder. Her home lands on the Wicked Witch of the East. The protagonist, feels abandoned and reluctant to trust others in Oz. Although the cyclone breaks Dorothy's foundation, at this moment is when her spiritual quest begins. While she feels alone, there are pivotal characters that guide her towards self-discovery and "home".
Glinda -The Good Witch
One of the first individuals Dorothy encounters is Glinda -The Good Witch. This character represents one of Dorothy's spirit guides or can be depicted as distant family. Glinda, reiterates that Dorothy is always safe and guided by light. Glinda, almost seems like a guardian angel watching over Dorothy. The Good Witch gives Dorothy ruby slippers as a gift, to protect her from negativity. On Dorothy's sacred quest she also encounters the Munchkins, who represent innocence, positivity and happiness. Glinda, reminds Dorothy to reflect inwards and pursue The Yellow Brick Road. This will lead her to the Emerald City and eventually back home.
The Yellow Brick Road signifies a spiritual pilgrimage. An emphasis, on what is ahead of you. Take time to visualize on your dreams, and the future you desire. Pursue your path to enlightenment, however daunting it may be. Self-discovery can be challenging at times, however you are ready. There are critical experiences that connect everything in your life.
The Yellow Brick road is yours to uncover and is uniquely woven. You have the answers, and are all knowing. Whatever path you take, you will end up exactly where you need to be. In Buddhist teachings, the Golden path is referred to as the path to your soul. The soul takes this journey in order to achieve enlightenment and return to the Higher Power. Perhaps, collectively individuals like Dorothy are on this inner search to really understand themselves?
Don't wait for the right answer and the golden path to present themselves. This is precisely why you're stuck. Starting without seeing the end is difficult, so we often wait until we see the end, scanning relentlessly for the right way, the best way and the perfect way – Seth Godin
Cowardly Lion
Each character Dorothy encounters is critical in her journey. The characters reflect emotions or parts of herself that she needs to acknowledge. The Cowardly Lion, signifies courage – to take changes, be brave SPEAK YOUR VOICE! We all have that lion energy within us. Do you honour yourself & boundaries? Take those risks and leaps of faith, you can accomplish anything you put your mind too! It is rewarding to know you are capable of changing your life at any given moment. Courage is something Dorothy needed while in Oz. She had to trust in the unfamiliar, surrender attachments and old versions of herself. Have you ever felt this way? In order to evolve, you may have to relinquish parts of yourself and give birth to a grander version.
Tin Man
The Tin Man, is the sacred heart. Are you tuning into your heart and inner wisdom? For years we have focused on the mind which governs many of us at times. The tendency is to get caught in ego mind, and disregard that essential energy we hold in our heart centre. The heart is a separate intuitive centre full of knowledge. When you allow your heart to expand, you elevate as a human being. That loving force is sensed by others instantly. The Tin Man was afraid to listen to his heart. When you are in unison with the mind and heart, harmony is created within. Dorothy had to open herself up while being in Oz, as she did, healing began. Do you feel like you need to connect with your heart centre? The Tin Man is a reminder to soften, and gently allow your heart to guide the way.
"Believe in Your Heart" Believe in your heart that you're meant to live a life full of passion, purpose, magic and miracles.
― Roy T. Bennett
Scarecrow
In essence, the Wizard of Oz offers the spiritual gateway to the divine mind. Dorothy encounters the Scarecrow at a fork in the road. It is here, the decision to remain the same or evolve. The scarecrow is the reminder to connect to your consciousness. One can see how each character in the Wizard of Oz has a deeper significance. A phrase I am reminded of is: "your mind is a garden. Your thoughts are the seeds. You can grow flowers or you can grow weeds". Fill your mind with seeds of knowledge and it will expand like a garden. Being positive is the first step. However, add an emotional frequency of elevated states of such as; joy, peace, love, gratitude can truly bridge the heart/mind connection. Dorothy had to comprehend her higher mind, this is connected to a deeper energy.
True courage is in facing danger when you are afraid. – Wizard of Oz
The Wicked Witch of the West
This witch represents a part of ourselves we want to neglect. Our shadow self and the ego. The Wicked Witch of the West, was related to Dorothy's inner fear and darkness. The witch wanted revenge on Dorothy has her home landed on her sister. The ego is a part of us, this is unquestionable. When we understand the ego, is here to teach us we break free from fear and attachment. Your thoughts are just thoughts, and can be changed instantly.
Dorothy was accompanied by all characters on pathway towards the Yellow Brick Road. In essence, she was collecting fragments of herself together to reconcile. The heart, mind and courage are elements we need to connect to daily. All characters assisted one another to grow in a distinctive way. They were sharing there story and elevated one another. However, it was Dorothy who was in search of the Golden Path.
The path to our destination is not always a straight one. We go down the wrong road, we get lost, we turn back. Maybe it doesn't matter which road we embark on. Maybe what matters is that we embark."
― Barbara Hall
One can assume that The Wizard of Oz was a dream sequence. All Dorothy had to do was click her Ruby shoes together and be home. Perhaps, she needed to encounter all the various characters, obstacles and epiphanies in order to truly find herself? Life is never a straight and narrow path, sometimes there will be detours and roadblocks overcome.
The Wizard in the Emerald City was unable to assist Dorothy for a specific reason. Dorothy's revelation was to tune into her own heart, energy and soul in order to return home. She didn't have to wish upon the rainbow, the rainbow was within her. The Golden Path was always within her reach.
You have plenty of courage, I am sure. All you need is confidence in yourself. There is no living thing that is not afraid when it faces danger. The true courage is in facing danger when you are afraid, and that kind of courage you have in plenty. – The Wizard of Oz